Teeter Hang Ups Dex II Decompression and Extension Machine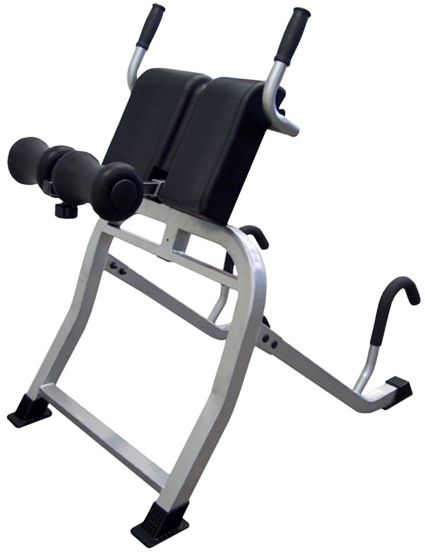 Teeter Hang Ups Dex II Decompression and Extension Machine
is rated out of
5
by
19
.
This product is currently out of stock.
Please choose product options above
Please choose product options above
PDP Sticky bottom AddToCart Section - active and hide position
This item requires specialized installation which, if selected, may require a separate appointment from the delivery date shown during checkout.  The assembly date and time of appointment will be scheduled once delivery is in process. The delivery date shown at checkout is an estimate of the initial delivery date only
Product Information:
The Teeter Hang Ups® Dex II Decompression and Extension Machine is a forward-rotating, user-controlled machine. Securing the individual from the hip joints rather than the ankles, it incorporates inverted decompression into a workout and enables strengthening of the core. Also provides back pain relief and improved joint health.
FEATURES:
FDA Registered 510(k) Medical Device
Vinyl covered cushion comfortably holds user in a fixed position
Multi-purpose handles offer support and resistance when stretching
Provides back pain relief, improved joint health, renewed energy and flexibility
Incorporates inverted decompression into a workout
Strengthens the core through crunches, back extensions, reverse dips, modified push-ups and band work
Maximum user weight capacity: 300 lbs
Recommended for users 4'8" - 6'6"
Dimensions: 41" length x 29" width x 45" height
5-year manufacturer's warranty
Click here for additional information relating to the Manufacturer's Warranty.
Brand: Teeter
Country of Origin: Imported
Web ID: 16TEEUTTRDXDCMPRSMEC
Rated 5 out of 5
by
George
from
A Lifesaver
I wouldn't take $$800 for this thing. Back pain had me to the point I couldn't sit in church and it would take medication to get me to the point that I could begin to do enough sit-ups to eventually pull me out of it. I tried the teeter hang-up and was more painful when done than when I started. I could tell it was the strain on the small of my back caused by hanging by my ankles. Sold it and bought this and set it up next to my sit-up bench, and now when back pain onsets, I combine this with sit-ups for two or three days, at night and in the morning, and I'm good to go pain free for two to three months. If I feel the old pain coming back, I just get back on for a couple days and I'm good to go again. And it's built solid as a rock. I've read the reviews which are critical of the fit to the bend in your knee, especially on shorter people, but that I can live with. I just dread having to live in pain when I reach the age that I can no longer use it.
Date published: 2014-11-22
Rated 5 out of 5
by
poor customer service
from
poor customer service
I love it. But the yellow large size SOFT density node broke off at the stem and when I called to replace it I was sent a packet of 8 all HARD density nodes. When I just called to question this the 'customer service' agent said that this was all they had and it was a gift. Then she hung up on me. I just want a couple of yellow large size soft density yellow nodes. Quite willing to pay. Apparently not available to me. This is one reason I hesitate to buy online. No consistently in product and no recourse.
Date published: 2015-02-18
Rated 5 out of 5
by
jackinrc
from
Better for lower back than inversion table
We have a Teeter inversion table, and while it is great, when we have a really low back problem, it offers limited relief. The DEX II really gets the low back. The ability to push up on the support bars to increase traction is wonderful. The curved handles provide great leverage for getting twists in. Plus you can use the curved handles for dips and pushups. My only suggestion for further improvement is to make the curved handles taller. My wife is 5'2" and getting off the DEX II would be so much easier with an extra 2-4" length on the curved bar.
Date published: 2018-02-11
Rated 5 out of 5
by
FigEater
from
Better than my traditional Teeter Inversion Table.
So glad I found this purely by accident. Had been working out at a MedX facility which really helped my back after a disc rupture in the lumbar region. When my benefits were all used up, I was told to get a roman chair to work with at home. I started researching online... I have an older Teeter inversion table which I used to love but has become a pain to get in and out of or tighten enough over my shoes. I found some low back pain persisted with the traditional teeter table and was never able to do reverse sit ups while fully inverted. Enter the Dex II. I LOVE IT. I use it every night (or almost) and do 30 full extensions each time which has saved my lower back. No more lumbar pain. I can twist while hanging and realign my spine. The only thing I don't love is the shape of the thigh pads. Wish they were flat and adjustable closer together or just one solid flat piece. I find pressure on the contoured piece that hits the inner thigh area to be uncomfortable at times - it grinds into my inner thigh/crotch area. Just a straight flat padded bench type pad would work better. Also I feel the width of the metal column piece that slides into the sleeve that holds the thigh pads could be thicker so there is not a rocking motion when locked into place (needs more snug fit). Other than those minor things, BUY THIS PRODUCT if you value your back and need the extension/decompression. Way better than a roman chair. Fix the minor issues please Teeter and it will be perfect!
Date published: 2017-09-03
Rated 5 out of 5
by
Patrick
from
Does more than inversion
I struggle with lumbar scoliosis and so far this machine along with chiropractic care have been very helpful. It's more than an inversion machine. Along with the exercises shown, I also use it to stretch my legs, leg raises in the upright reverse dip position along with reverse dips. My favorite are back extensions with straight legs. This works the legs and lower back. The machine is rock solid so there are no worries about it tipping.
Date published: 2019-04-04
Rated 5 out of 5
by
RB Shawver
from
Good piece of equipment
I bought this about 4-1/2 months ago. I noticed right off that it was a much more intense stretch of the lumbar spine area than my regular Teeters inversion table. I started out with only 2 minutes of inversion daily. I am now up to about 7 minutes, but sometimes I'll invert for 5-6 minutes 2X a day. I feel like it is gradually helping my lower back. It's a solid, well constructed piece.
Date published: 2016-04-07
Rated 5 out of 5
by
mountain living
from
20 years
I have the 1995 model called back revolution. I have a routine of deep stretching using front handles, hanging and stretching, assisted yoga postures, floor assisted stretching, combined with the Theracane acupressure. Doctors should prescribe this instead of opiates. If you hung from your knees as a kid you recapture that feeling.
Date published: 2017-08-14
Rated 5 out of 5
by
Laura 52
from
Would not be without it.
I use to tease my husband, " could you please just hang me upside down". 20 years ago I would hang upside down on my sons swing set from my knees. A friend had a teeter and borrowed it to me six months ago, I fell in love with the relief I got from it. I ordered my own and life is good. No more chiropractor. So, Thank You
Date published: 2015-02-10